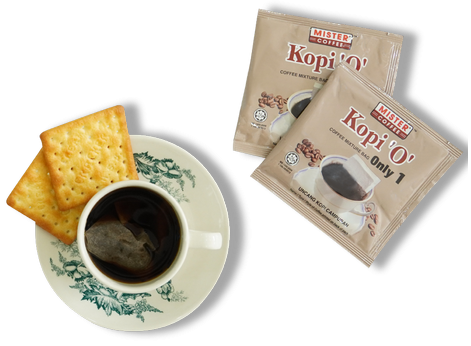 The origin of Kopi O started with the Chinese migrated to Malaysia and Singapore due to natural calamities and political instability in the 19th Century. In order to highlight and add flavor to the coffee beans, coffee roasters added sugar, margarine and salt during coffee roasting. Traditional Kopi O has thus become a part of our culture for almost a century.
Each single served Kopi O is individually packed with Modified  Atmosphere Packaging (MAP) System by using state-of-the-art machinery from Japan to preserve the aroma of the coffee for a very long period.
Remove the coffee bag from the sachet and place it in a mug
Add 200ml of boiled water over the coffee bag
Brew the coffee for 4 – 5 minutes. Stir and press the coffee bag while brewing.
Remove the coffee bag, stir and the kopi o is ready to drink
Buy in Bulk At a Valuable Pricing