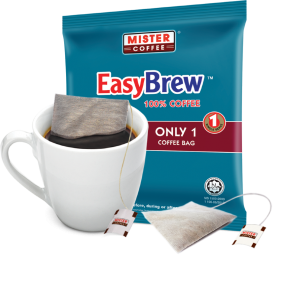 Brew a cup of good coffee anytime, anywhere with EasyBrew™ Coffee Bag.
EasyBrew™ uses Fine Mesh Filter Bags that allows the true flavour of the coffee to come out and trap the coffee ground inside the bag so that you can get a clean cup of coffee.
Each single served EasyBrew™ is individually packed with Modified  Atmosphere Packaging (MAP) System by using state-of-the-art machinery from Japan to preserve the aroma of the coffee for a very long period.
How To Brew Great Coffee with EasyBrew™
Remove the coffee bag from the sachet and place it in a mug
Add 200ml of boiled water over the coffee bag
Brew the coffee for 4 – 5 minutes. Stir and press the coffee bag while brewing.
Remove the coffee bag, stir and it is ready to drink